The beginnings
MyProCoach™ is an endurance sports coaching company founded by me, Phil Mosley in 2010.
I've been a passionate triathlete, runner and cyclist for 20 years and I guess the biggest challenge in that time has been balancing my training with my career and family responsibilities. I imagine it's a similar story for you too.
I've always wanted to do well at my sport, but not to the detriment of everything else. For many years I didn't get this right. I was either working or training. And when I wasn't working or training I was just plain exhausted. My race results were inconsistent too. Sometimes I'd perform really well, other times I was a disappointment.
I would often feel like I had no free time and was making a bad job of everything. Doing well at endurance sports gives me the self belief to do well at other things in life. But too often it just wasn't happening.
Turning things around
Just before I turned 40 several years ago, my wife and I started a family and I became the sole bread-winner. I was really happy about it, even though it meant less training and broken sleep. Naturally, it forced me to think carefully about how to structure my training program. I read more books, blogs and scientific studies than usual – and I studied my training diaries in great depth.
It became clear to me that if you want to be a successful amateur athlete, you need to focus on training better, rather than training more. After all, time is limited for all of us. In fact, my training diaries showed that the most successful seasons were the ones where I'd come to terms with the fact I didn't have much time to train. Focusing too much on "training hours per week" was actually counter-productive.
From that point on, I deliberately did fewer workouts, but I trained much smarter. Being a new Dad meant I only had an average of 6.5 hours to train each week, normally at 5:30 am each day. That training time was precious.
To narrow my focus, I focused solely on improving three key performance metrics for triathlon:
Critical Swim Speed
Functional Threshold Power (Cycling)
Threshold Running Pace
Thankfully it is possible to improve in these three important areas, without having to train for endless hours.
The results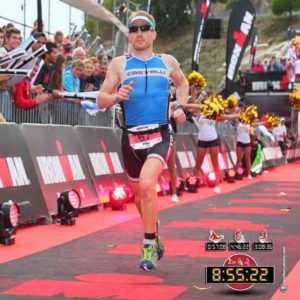 So, despite my limited spare time, I entered IRONMAN 140.6 Barcelona that year. All I could do was put my faith into my training method and hope for the best. 
Over a period of four months, I only had the opportunity to do one long ride and one long run. All my other runs were less than 60 minutes. And my bike rides were 45 to 90 minutes long. I felt a bit stressed about that, if I'm honest, because it didn't feel like enough.
Race day soon came around and confidence-wise I must admit I felt a little under-trained. This partly stemmed from the fact that I'd never done particularly well at long distance races in the past, so my confidence wasn't super high.
But to my surprise I had one of my best ever races.
I paced it to perfection using my new method and finished in 8 hours 55, a new personal record for an IRONMAN 140.6. My swim, bike and run were all strong and I never struggled at any point. I was 40 at that time, although my age didn't seem to make any difference to my fitness.
I felt great about myself afterwards – and the result still fills me with pride today. Best of all, throughout all my training I got to spend lots of time with my wife and baby daughter. And I grew my coaching business at the same time.
To helping over 10,000 athletes…
Since then I've used this philosophy with all the athletes I've worked with. And the results have been consistently good (see feedback).
That's why I started My Pro Coach – to offer the world's most comprehensive range of endurance sports training plans. All designed to help you enjoy the same success that my athletes and I have. And in an affordable way that still means you have quality time for your family, friends and career.
The training is structured smartly, giving you flexibility to drag and drop your workouts to suit your availability. You even get email access to our Certified Coaches whenever you have questions along your journey.
I am based in England and have lived and travelled all over the world – including Europe, Australia, South Africa, Canada and North America. I work with thousands of athletes each year globally – you can hear from some of them here.
Please tell me about your goals and background so I can recommend a training plan to suit your specific needs (email [email protected] or use our contact form).
I look forward to hearing from you.
Phil Mosley
P.S: For ongoing training tips, please sign up to my regular blog using the subscribe form at the bottom of any page (you can unsubscribe at any time).